Call now! Toll Free Order Line & Tech Help 1-877-628-6028 or sales@dropros.com
DRO PROS 1-2-3 Value! - Easiest to use Digital Readout - DRO Kits start at only $499 - Industry's best warranty!
Our Kit and Part Prices always beat Heidenhain Newall Acurite Sargon & Fagor!
We speak English - We answer our phones - FREE shipping on magnetic kits!
Compare all of our Digital Readouts! Click HERE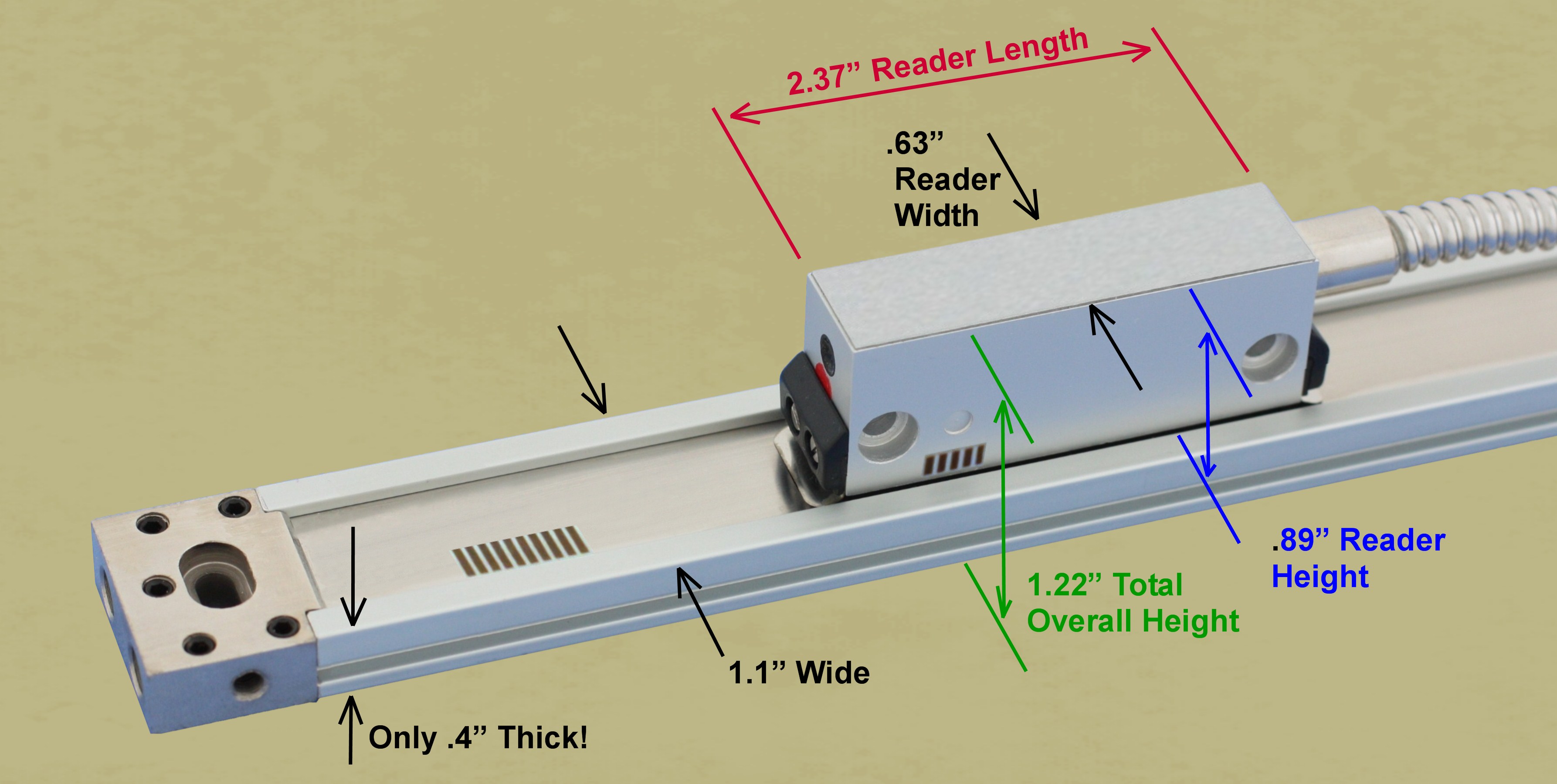 We have already placed a factory order with Electronica for some DRO kits with absolute scales. As soon as they arrive, we will have more information / be able to take and post photos. However, these kits will be in limited supply so call now to reserve your kit!
Benefits of Magnetic Scales
| | | | |
| --- | --- | --- | --- |
| | Magnetic Scales | Glass Scales | Inductive Scales |
| Profile | 1-1/4" height | 2-1/8" height | 2-7/8" height |
| Ease of installation | Flat scale "bar" easily mounts directly to machine | Scale and readhead joined together ? cannot be disassembled | Round "bar" must be offset / cannot be mounted flat against the machine |
| Price | Complete kit starts at only $760 | ~ $700 | $1,500 + |
| Cost to repair | Readhead and / or scale can be purchased separately | Readhead and scale must be purchased as a complete assembly | Parts extremely expensive |
| Resistance to contaminants | Impervious to contaminants | Optical technology susceptible to contamination | Impervious to contaminants |
| Can scales be cut to a custom length? | Yes | No | No |
| Scale durability | Virtually indestructible | Glass prone to breakage, contamination | Rod susceptible to damage |
| Overall length | 2.5" longer than travel | 5" longer than travel | 10" longer than travel |
| Upgradeable software | Convenient USB | Not available | Not available |
| Bracket system | Powder coated black, custom brackets | "Universal brackets" require extensive modification | Complicated bracket system must be "offset" |
There are currently three different scale types available for digital readout systems. They are magnetic, glass, and inductive. Glass scales rely upon an optical encoder and receiver mounted inside of an aluminum extrusion. If the scale becomes contaminated by coolant, oil or dust, they are rendered useless.
Inductive scales are impervious to contamination. The disadvantages are they're bulky, expensive, and difficult to mount.
Magnetic scales combine the best of optical and inductive technology. Magnetic scales are impervious to coolant, liquid or dust, yet are slimmer than either of the other two technologies. They're easier to mount, more durable, and can be broken down into convenient lengths for shipping. The first thing customers notice with magnetic scales is that the readhead and the scale are completely separate components. This means mounting magnetic scales is easier than any other type scale - since the readhead mounts separately from the scale, mounting is much quicker, and a whole lot easier! Prior to Electronica, magnetic scales were prohibitively expensive. Today, they are on par pricewise with optical scales. In summary, magnetic scales hold all the advantages of the other technologies, without retaining the negative qualities of being higher priced or difficult to install that inductive scales suffer from.
Picture of a New Glass Scale:
| | |
| --- | --- |
| | Picture of a new glass scale. Notice the mirror finish along the walls inside the scale. |
Picture of a Glass Scale that's been improperly used in a contaminated environment:
| | |
| --- | --- |
| | Picture of a glass scale contaminated by hundreds of debris particles after being placed in service less than 3 months. The inside of this scale should be a mirror shiny finish, as shown above. Even a single bit of debris can cause a glass scale to stop reading correctly. Unfortunately, a contaminated glass scale will continue to display position, albeit an incorrect one, leaving the operator unaware of the malfunction. The solution, of course, is to use magnetic scales. Magnetic scales are designed to operate in the harshest and most extreme environments. Not only are magnetic scales unaffected by debris or contamination, they're also protected against submersion in coolant or liquids. |
The height or head dimension of the readhead is critical to a clean DRO installation. Magnetic scale technology eliminates the bulky optical sensors common to traditional readheads.

A slim design means the readhead can be mounted close to the machine, increasing travel and tool efficiency.

Slimmer profile readheads are also much less likely to get damaged from dropped tools or workpieces.

Magnetic readheads retain the advantage of being impervious to coolant, but aren't bulky or expensive like inductive or optical scales.

The overall required mounting height is much less than optical or inductive scales.

Magnetic scale height is less than half that of inductive scales.

"Required End Clearance" is the 'dead space' between the center of the readhead and the end of the scale. The more "Required End Clearance" a scale requires, the longer the scale becomes.
What makes DRO PROS readouts the best? Am I really getting a good deal?
At DRO PROS we get daily emails from suppliers wanting us to hawk their digital readouts. We literally travel worldwide to seek out the best deals for you, our customer. International Trade Show in Beijing? Been there. Taiwan, Korea, Japan, China, you name it, we've been there. And guess what? Our selection of digital readouts represents the finest we've found. Anywhere. Trust us when we say you get what you pay for. We could choose to sell the same DRO's you see on eBay for $50 less, but we choose not to, because we know they won't last and ultimately will cause us and our customers frustration. Still don't believe us? Take a look here at the insides of a very popular DRO currently sold on eBay under various brand names:
(Click on images to enlarge)
Notice how the traces between the touch pads are simply taped in place by hand from leftover scraps - obviously this is much cheaper to manufacture, but how do you suppose this type of display is going to hold up on your machine? As they say, Caveat Emptor or 'Buyer Beware'.
Hopefully this information will help you, our Customer, when choosing your DRO system. Take your time, choose wisely.
What can a DRO do for me?
A digital readout system digitally displays a machine tool's exact position on an electronic display board. A DRO can greatly simplify your work, save time, reduce costly mistakes and allow you to produce more accurate, exacting parts. The DRO unit keeps precise track of tool bit position in all 3 axis - back and forth (x axis), fore and aft (y axis), and up and down (z axis). Without a DRO system, an operator must count the number of hand wheel revolutions to determine exact position of a tool head against the table. For example, some milling machine leadscrews are graduated at 16 threads per inch (TPI), which means that for every turn of the hand wheel the table moves 1/16? (.0625), therefore it takes 16 turns to move the table exactly 1?. Other machines are calibrated at 10 TPI, meaning it takes 10 hand wheel revolutions for the table to travel an inch. On the Z axis, it is typical for each division to represent .002?, where one full revolution is equal to .060?. Needless to say, it can quickly become quite confusing! The bottom line is that with a digital display, the days of counting hand wheel revolutions are over!
In summary, a machine equipped with a digital readout (DRO) is easier to use, less frustrating, and can save the operator many hours in setup and operation time. No more counting turns of the dial - simply turn the display on and you're ready to go - the DRO keeps track of position even after a power shortage!
Looking for just a scale? DRO PROS sells parts too...
A majority of our sales are in the form of kits, but we also sell individual components too. We sell DRO parts for Lathes, Milling Machines, Borers, Grinders, Wirecut Machines and EDM's. If you simply need a replacement scale for your existing display, odds are we can help. Most scales are wired universally, for more information please check our scales page.
Why does DRO PROS post their digital readout part prices online when other companies don't?
That's because if you were to find out what other companies are going to charge you for parts
when you need them, you might not buy their digital readout kit in the first place!
At DRO PROS, we're proud to show off our low part prices.
Go DRO PROS!
Why should you buy from DRO PROS?
We speak English - We answer our phones - Same day shipping
Veteran owned, Veteran managed - and proud of it!
Our goal is to make customers for life. We feel that, in the long run, treating customers right will yield much more than simply "going for the sale". In accordance with that, we have attempted to pass on some ideas to help you, the customer, in completing your purchase decision:
Price. Probably the most talked about factor when buying a digital readout. Price can also be the most misleading, and perhaps worst way, to judge a digital readout kit. We've all heard the old adage, "You get what you pay for." Before the internet, it was true, price did generally correlate directly to value. But that was yesterdays economy. All resellers obtained their goods the same way, and therefore incurred the same costs. In today's economy, the market has changed drastically. At DRO PROS, we import and sell directly to you. Unlike our competitors, we do not have Western and Eastern sales divisions and multi layers of management to support. One location, one cost, and the savings get passed on to you!
Intuitiveness or "Ease of Use". Probably the most important, and hardest to determine factor when buying a readout. Think in terms of after the sale. Even if you get an absolute 'rock star' bottom line price that would make William Shatner proud, if the digital readout is not user friendly, you still didn't get a 'deal'. The whole point of getting a digital readout is to make your work easier and more enjoyable. If the digital readout is poorly designed, too complicated, if the display isn't bright enough, or in other words is 'user unfriendly', you'll regret your purchase decision every time you turn it on. It simply won't matter what you paid, it's not worth it!
Support. Most likely the second most important, and perhaps most overlooked factor when buying a digital readout. Imagine trying to reach a technician when you've bought a digital readout from an overseas reseller! Yet every day, people "save" $50 and buy products on eBay without stopping to think what will happen when they need service or tech support. Some digital readout resellers don't even publish a phone number! While our competitors continue to pare down or even totally eliminate their customer support, we continue to expand our Customer Service. Our Video Tutorials are the best in the industry, and are available free for you, our customers. Our tech help is the best in the business - our techs all know our readouts inside and out. Nobody knows digital readouts like DRO PROS!
Warranty. DRO PROS is proud to offer the industries safest, longest, 6 year warranty on all of our Electronica magnetic scale kits. All of our DRO PROS brand glass scale kits come with a full 3 year warranty, and our EASSON kits come standard with a 1 year warranty. DRO PROS brand warranty claims are handled directly by DRO PROS. No run-arounds, no hassle! Something not working as expected? Call us, don't get redirected overseas like the other guys!
Parts. Can you believe some resellers don't carry parts? That's right, buy from the "other guys", break a scale, and you get to replace the entire digital readout kit! Don't assume you can just go buy a different brand scale, either, because most manufacturers use different connectors on their scales. If that wasn't enough, even among those with a common connector, such as a DB9, most are hard wired differently. Finally, don't overlook the cost of parts. At DRO PROS, an 800mm replacement scale will cost you $197. A similar scale sold extensively by a European company will cost nearly $700! Finally, we have a massive inventory of parts, so rest easy - a replacement part is only a phone call away!
The Best Value. We literally search world-wide for the best value digital readout products on the planet. If there was a better digital readout package to be sold, we would be selling it. Yes, we've seen cheaper units on eBay, but there is a reason they're cheaper. Think poor quality, no parts, no manual, non-existent customer service, poor product fit/finish etc.
Customer Service. We pledge to never "over sell" you on a product that won't work well for you. Our philosophy is to try and save you money and get the best value kit tailored to the machinery you have. Many of our customers are surprised when we recommend against buying a more expensive brand. Again, our philosophy is to build customers for life. Give us a call and let us save you money!
Shipping. Most orders ship the same day, the next at the latest. We do not 'drop' ship, we have our own massive warehouse of inventory right here on site. We use UPS, you'll get a tracking number emailed to you immediately, and we cover all shipping insurance automatically.
The Company. DRO PROS is a veteran owned, American company. We enjoy selling quality products at competitive prices. We believe that providing the best customer service is the key to success. No other company spends more time on the phone with customers than we do. Even in a down economy, our company continues to thrive and grow. We look forward to earning your business!
The Bottom Line. Our line of digital readout's are simply the most user friendly readouts on the planet. Because of our direct marketing structure, they're also extremely affordable. Coupled with our extensive customer service and affordable parts, our Digital Readout products are simply the best value on the planet.
Shipping:
Domestic Shipping to the United States: All digital readout shipping is done via UPS for a flat rate of $43. You'll get a tracking number emailed direct to you from UPS, enabling you to track your shipment door to door! We cover insurance against any potential shipping damages, so no hidden fees here!
International Shipping to Canada: All of our DRO shipping is done via UPS. We charge a flat fee of $80.
International Shipping elsewhere: All of our DRO shipping is done via the United States Postal Service via a flat rate of $140.
DRO PROS Industry Leading 6 Year Warranty!
Electronica magnetic kits = 6 year warranty
DRO PROS glass kits = 3 year warranty
EASSON glass kits = 1 year warranty
DRO PROS brand warranty claims are handled directly by DRO PROS.
No run-arounds, no hassle!
At DRO PROS, we take care of our customers. Have an issue or need some help? Let us take care of it with a toll-free call to California!
Call us now TOLL FREE at 1-855-DRO-PROS

---
Professional Digital Readout kit packages start at only $499!
Call Toll Free now at 1-855-DRO-PROS for all your digital readout needs!
DRO PROS
4992 Allison Parkway Suite G
Vacaville, CA 95688 US
Phone: 877-628-6028
Website: http://www.dropros.com
(877) 628-6028 (855) DRO-PROS (707) 452-8437 (707) 452-8434
Our Kit and Part Prices always beat Heidenhain Newall Acurite Sargon & Fagor!
Why should you buy from DRO PROS?
We speak English - We answer our phones - Same day shipping
Veteran owned, Veteran managed - and proud of it!